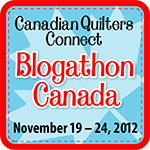 I'm so excited to be taking part in
Blogathon Canada
which is organized and sponsored by
Sew Sisters quilt shop
. It's my first time to be included in something like this, so of course I'm a little nervous to get all the details right!
My blog is coming to you from Bathurst, NB. I'm Holly and I've been crafting for as long as I can remember and quilting since I was a teenager. I learned to hand piece first and later moved onto machine piecing. This is the latest baby quilt that I did. Can you tell I like modern with bright colors?
Although I still like to put together a few quilts per year, I spend most of my time on my art and and fiber art. I am influenced by the scenes 'through my window' and by the many things I see on my walks on the trails. I am driven to attempt to express what I see and feel into fabric and fiber and therefore I tend to follow the seasons with my piece at the time.
For example in early fall I was working on this piece.
My latest piece was inspired by my walks on the NB Trail while feeding one of my favorite little birds, the chickadee.
When Sew Sisters told me I could pick fabric to give away, I thought I'd pick some in the colors of my chickadee piece and offer my pattern at the same time. They responded by cutting the fabrics and assembling 8 kits to giveaway! Yes, there are 8 kits to win!
Those are great odds! All you have to do is leave me a comment on this post and you'll be eligible. I'll make the draw on the last day of the blogathon, November 24th.I've added the chickadee pattern under pages on my sidebar. It will have to be enlarged about 120-130% once you've saved it to your computer. I'd love to see what you do with it!

I've just added the pattern to the top of my pages list in my sidebar. You can copy the pattern, save it and enlarge it to the size you'd like. I tried it and it comes out just slightly smaller than the size I used, so about 120% would work.
It was pointed out to me that I forgot to include the NB blog links. Thank you! See, I knew I'd forget something. Check them out:
http://wendy-itiswhatitis.blogspot.ca/
Giveaway ends November24th 7pm Atlantic daylight savings time